Summary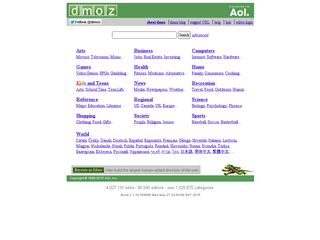 10 Aug 2015
Ahrefs URL Rating: [loading...]
Majestic Trust Flow: [loading...]
Referring Domains: [loading...]
DomainStats.io Backlink Score: [loading...]
DomainStats.io Organic Visibility Score: [loading...]
Info from crawl

Time to fetch: 1.01 seconds

Words on home page: 49

Language: en

Title: DMOZ

Favicon:



Dofollow links on the home page:
External: 2
Internal: 0

Updated: 31 May 2017
Spam and Blacklists
DomainStats.io Spam Flags: 0
Google Safe Browsing database: Clean
WOT Trustworthiness: Excellent (confidence 62%)
WOT Child Safety: Excellent (confidence 56%)
WOT category: Good site (confidence 97%)
McAfee SiteAdvisor Rating: Safe
Database from Malwarebytes.org: Clean
9 different lists from Spamhaus: Clean
6 different lists from Surbl.org: Clean
5 different lists from JunkemailFilter.com: Clean
2 different lists from Spam Eating Monkey: Clean
List from Malwaredomains.com: Clean
Database from PhishTank.com: Clean
Database of scammers from spam404.com: Clean
URLs removed from Google (DMCA): 0

Data from Ahrefs
Ahrefs Domain Rank: 72
Domains linking in: 106433 (-3433)
Pages with highest Ahrefs URL Rating:
Updated: 18 Dec 2016
Registration details
Registration date: 1999-01-02
Registrar: CSC Corporate Domains, Inc. (R24-LROR)
Updated: 29 Jul 2015
Rank positions on Google.com
DomainStats.io Organic Visibility Score: 230 (+0)
Updated: 22 Jul 2017
Data from Majestic

Citation Flow: 58 (-6)
Trust Flow: 62 (-15)
Category: Computers/Internet/Searching
Referring Subnets: 48562 (-400)
Referring IPs: 85071 (-669)
Global Rank: 308 (+4)
Rank for all .org: 30 (+1)
Updated: 7 Apr 2017 / 5 Jun 2017
Data from Moz

Domain Authority: 93 (+0)
Page Authority: 93 (+0)
Updated: 3 Aug 2016
Keyword data
Keyword: dmoz
Search volume per month: 4400
Cost per click (CPC): $1.00
Commercial Value: 60
Language:

Updated: 8 May 2017
IP info
IP: 52.216.128.210 Ashburn

(2 of these)
ISP: Amazon.com, Inc.
This IP is listed by 0 out of 22 blacklist providers.
Historic IP numbers:

12 Jul 2017: 54.231.120.225

11 Jun 2017: 52.216.82.82

Nameservers:
dns-07.ns.aol.com
Updated: 12 Aug 2017
Sociala Media

3535

174
Updated: 20 Jan 2017
Internet Archive

Saved 8192 times
First snapshot: 25 Jan 1999
Last snapshot: 10 Aug 2015
Updated: 11 Aug 2015
Data from Alexa

Global Rank: 66680
Rank number 14242 in IN

Updated: 8 Aug 2017
Google Index

Indexed pages: > 6860
DMOZ - The Directory of the Web
www.dmoz.org/
Searchable web directory categorized by subject and location in 90 languages. Edited and run by volunteers, supported by AOL.

About DMOZ
www.dmoz.org/about.html
6 days ago ... About DMOZ. DMOZ is the largest, most comprehensive human-edited directory of the Web. It is constructed and maintained by a passionate, ...

DMOZ - Suggest a Site: FAQ
www.dmoz.org/help/submit.html
Jun 17, 2016 ... Suggest a Site: FAQ. How do I add a site to DMOZ? How long does it take for my site to be listed? Does DMOZ have an express submit service ...

DMOZ - Suggest a Site: Instructions
https://www.dmoz.org/add.html
Jun 17, 2016 ... Step by step instructions for suggesting a site to the directory.

DMOZ - Business
https://www.dmoz.org/Business
The Business component of the Open Directory generally lists and categorizes English-language sites that cover:

DMOZ - Health
https://www.dmoz.org/Health
Guides lay persons and non-medical users and medical practitioners to useful and reliable online medical and health information. Provides leadership in setting ...

DMOZ - Terms of Use
www.dmoz.org/docs/en/termsofuse.html
Jun 1, 2016 ... Terms of Use. Acceptance of Terms. By using DMOZ in any way you agree to these terms. These Terms of Use ("TOU") are a contract between ...

DMOZ - Become an Editor
www.dmoz.org/docs/en/help/become.html
Sep 9, 2016 ... Information about the role of editors in this online project, including what they do, and how to apply to become one.

DMOZ - Regional
https://www.dmoz.org/Regional/
The Regional category contains English language sites about geographical regions. This includes groups of countries in an area, individual nations, states or ...

DMOZ - Computers: Programming: Languages: Python: Books
https://www.dmoz.org/Computers/Programming/Languages/.../Books/
Sep 18, 2016 ... This category is for books, paper and online, on the Python programming language and closely related topics.

Updated: 20 Nov 2016
Mobile
Speed: 87
(Speed desktop: 93)

User Experience: 57

Full info on this link.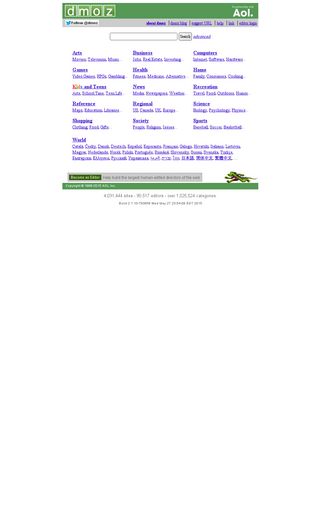 Updated: 30 Jul 2015
Data from SimilarWeb
Data from Compete, USA only
Few things missing ...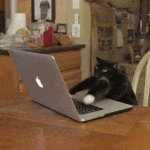 Development
The best backlinks
Too many links ... sorry
Few things missing ...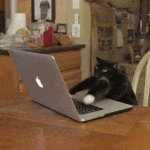 Examples of domains that dmoz.org links to