Summary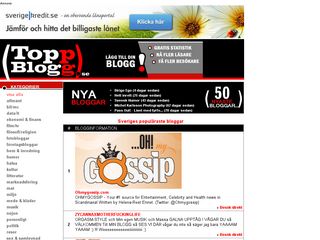 11 Aug 2015
Ahrefs URL Rating: [loading...]
Majestic Trust Flow: [loading...]
Referring Domains: [loading...]
DomainStats.io Backlink Score: [loading...]
DomainStats.io Organic Visibility Score: [loading...]
Backlinks Language: [loading...]
Info from crawl

Time to fetch: 0.60 seconds

Google Analytics: UA-26931429 (2 of these)

Words on home page: 1760

Title: Toppblogg.se - Sveriges populäraste bloggar

Meta description: Toppblogg.se presenterar Sveriges populäraste bloggar samt håller koll på vad det bloggas om just nu.

Meta keywords: populära bloggar

H1: Sveriges populäraste bloggar

Dofollow links on the home page:
External: 4
Internal: 274

Updated: 1 Apr 2017
Spam and Blacklists
DomainStats.io Spam Flags: 0
Google Safe Browsing database: Clean
WOT Trustworthiness: Good (confidence 6%)
WOT Child Safety: Excellent (confidence 10%)
WOT category: Good site (confidence 6%)
McAfee SiteAdvisor Rating: Safe
Database from Malwarebytes.org: Clean
9 different lists from Spamhaus: Clean
6 different lists from Surbl.org: Clean
5 different lists from JunkemailFilter.com: Clean
2 different lists from Spam Eating Monkey: Clean
List from Malwaredomains.com: Clean
Database from PhishTank.com: Clean
Database of scammers from spam404.com: Clean
URLs removed from Google (DMCA): 0
Database from urlblacklist.com: Clean

Data from Ahrefs
Ahrefs Domain Rank: 51
Domains linking in: 1175 (-113)
Pages with highest Ahrefs URL Rating:
Updated: 9 Feb 2017
Registration details
Registration date: 2008-08-15
Registrar: www.binero.se
Updated: 20 Feb 2017
Rank positions on Google.se
DomainStats.io Organic Visibility Score: 76 (+0)
Updated: 9 Feb 2017
Data from Majestic

Citation Flow: 40 (+3)
Trust Flow: 22 (+4)
Category: Science/Biology
Not in Majestic Top Million.
Updated: 7 Apr 2017
Data from Moz

Domain Authority: 44 (+2)
Page Authority: 50 (+1)
Updated: 17 Dec 2016
IP info
IP: 213.180.84.19 Karlstad

(2 of these)
ISP: Telia Company AB
This IP is listed by 0 out of 22 blacklist providers.
Nameservers:
dns01.ipeer.se
dns02.ipeer.se
Updated: 12 Apr 2017
Sociala Media

54

2
Updated: 21 Jan 2017
Internet Archive

Saved 177 times
First snapshot: 5 Mar 2008
Last snapshot: 10 Aug 2015
Updated: 20 Aug 2015
Data from Alexa

Global Rank: 4962601

Updated: 8 Apr 2017
Google Index

Indexed pages: > 2370
Toppblogg.se - Sveriges populäraste bloggar
www.toppblogg.se/
Toppblogg.se presenterar Sveriges populäraste bloggar samt håller koll på vad det bloggas om just nu.

Mat
www.toppblogg.se/?category=15
För den hungrige, här hittar du tips om mat bland Sveriges bästa bloggar.

Nöjen
www.toppblogg.se/?category=18
BLOGGINFORMATION. 1, KaninMagazinet. Allt om Kaniner! Bloggen där du hittar all fakta om kaniner, intervjuer med uppfödare och en massa tävlingar med ...

Sveriges mest allmänna bloggar
www.toppblogg.se/?category=1
BLOGGINFORMATION. 1, Ohmygossip.com. OHMYGOSSIP - Your #1 source for Entertainment, Celebrity and Health news in Scandinavia! Written by ...

MAKE YOUR WALLS TALK
toppblogg.se/?action=out&id=6384
MAKE YOUR WALLS TALK.

Litteratur
www.toppblogg.se/?category=13
BLOGGINFORMATION. 1, Novell.nu - Noveller, artiklar och dikter. Välkommen till Novell.nu- Sveriges största katalog av artiklar, dikter och noveller. Här kan du ...

Teknik - De bästa teknikbloggarna för oss teknikfreak
www.toppblogg.se/?category=27
Teknikfreak? Läs de bästa teknikbloggarna just nu.

Film & TV - De bästa bloggarna
www.toppblogg.se/?category=5
BLOGGINFORMATION. 1, TOPPRAFFEL! Mytomspunne filmjournalisten Pidde Anderssons blogg är troligen Sveriges mest ambitiösa filmblogg. Här finns ...

Nyheter om prylar, ny teknik, internet, samhället och den mobila ...
www.toppblogg.se/?action=out&id=2410
Techrisk.se - En samlingsplats för nyheter om internet, prylar, teknik osv. Fakta, recensioner och artiklar.

IDStyle: Frisörinredning | Frisörmöbler | Salongsinredning
www.toppblogg.se/?action=out&id=9357
Frisörinredning - I.D.Style AB är en totalleverantör inom frisörinredning, salongsinredning och frisörmöbler! Våran frisörinredning produceras i Europa för att vi ...

Updated: 12 Jul 2016
Google PageRank

Updated: 1 Aug 2015
Mobile
Speed: 66
(Speed desktop: 64)

User Experience: 62

Full info on this link.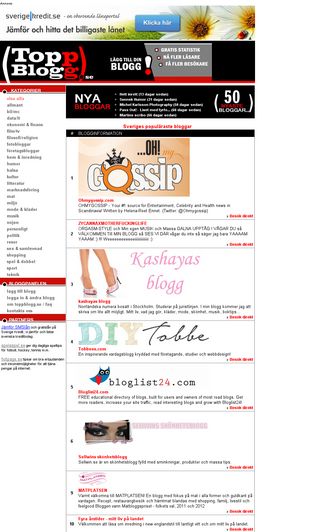 Updated: 30 Jul 2015
Data from SimilarWeb
Few things missing ...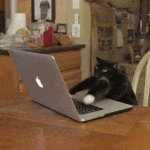 Development
The best backlinks
Too many links ... sorry
Few things missing ...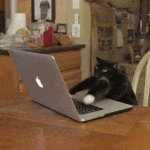 Examples of domains that toppblogg.se links to